Main Street Toccoa Unveils Historic Plaque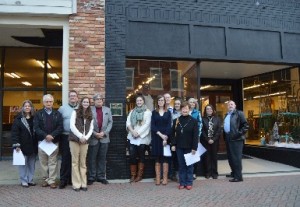 Main Street Toccoa unveils the latest in this year's series of historic plaques.
On Thursday, local officials and others gathered at Feral on Doyle Street in downtown Toccoa to unveil this month's plaque.
The buildings that now house Feral originally housed Red Apple Grocery and Sears.
According to Main Street Toccoa, the buildings were combined into one over the years to allow for more space.
Cato's used the buildings in the 1980s and 1990s and that another ladies' boutique used the space in the late 1990s.
In 2005, an antiques business was located in the space and in 2008, the building was again divided into two to house Toccoa's Fireplace and Olie's Ice Cream.
Karly Herring turned the two separate spaces into one again when she purchased the building in 2013 to expand her women's clothing boutique, Feral.
Toccoa's historic plaque program highlights 10 historic buildings in Toccoa each year.
One historic plaque is unveiled each month.
City officials said that once all of the plaques have been installed, a walking tour podcast will accompany them to further bring historical awareness to downtown Toccoa.